Yummy Keto Parmesan Garlic Wings
This low carb recipe is something you will be saving for ages, The mixture of the parmasan and garlic sauce with the wings
makes it so delish it will turn your taste senses upside down, It's a favorite for a reason, Highly recommended!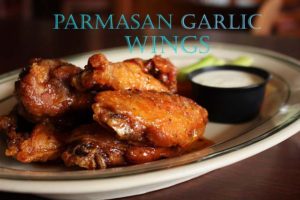 INGREDIENTS
1 1/2

tbsp baking powder

1/4

cup salted butter

Fresh chopped rosemary or parsley

3.5 

lbs chicken wings

Pepper and Salt
4

cloves garlic, minced

2

tsp dried parsley

Pinch red pepper flakes

1/2

ounce grated parmesan 
INSTRUCTIONS
1.Brush baking rack with butter or oil to prevent sticking.

2.Preheat oven to 260F and place a baking rack over a baking sheet lined with foil.
3.Use clean paper towel to dry the wings (as dry as possible!) and place in a plastic bag. Sprinkle with baking powder, pepper, and salt and seal the bag. mix it really well.

4.Lay wings in a single layer on prepared baking rack and bake in lower third of oven for 20 minutes.

5.Start increasing oven temperature to 430F and move baking sheet to upper third of oven. Continue to bake for another 20 minutes, until the wings are delicate and crispy. You're done!

6.Melt the butter in a pan. Add the garlic, parsley and pepper flakes. Add the chicken wings to it and sprinkle with the parmesan. Toss well to coat. Sprinkle with chopped parsley. Sprinkle with additional salt and pepper to taste.
Et Voila! Enjoy!
Notes
                                                                                                                                                                       Nutrition Facts
  Serving Size
  Amount Per Serving
  Calories 389                                                                                          

  

  Calories from fat 273

  % Daily Value
  Total Fat 

26.15g

42%
  Carbohydrate 

1g

0%
  Dietary Fiber

0.09g

0%
  Protein 

31
---
---